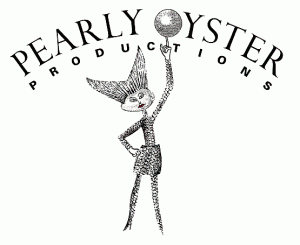 In 1989, upon winning a competition to script and direct an animated film for children, Emma Calder and Ged Haney established Pearly Oyster Productions – POP!
The resulting film, The Drummer, had wide international success and led to many more notable commissions including the first episode of Rik Mayell's Grim Tales for Central TV. Having captivated the eyes and ears of the producers, Ged was commissioned to write the music for all 22 episodes.
The Turd Family go on Holiday, their environmental sting for MTV, was nominated as best environmental TV commercial in the British Environmental Media awards.

The Turd Family Go On Holiday. Conceived, animated and directed by EMMA CALDER and GED HANEY. Music by GED HANEY. Pearly Oyster Productions 1989 for MTV.
The Turd Family go on Holiday was commissioned by MTV as one of their series of 'Green commercials', the only constraint being that it had to make some comment upon ecology or environmental issues. Using powerful imagery, black humour, and a liberal helping of appalling bad taste we set out to draw people's attention to the state of British beaches.
Ged's 1992 film for Channel 4 The Kings of Siam, received high critical acclaim from festivals all over the world. It won the Jury Prize in Espinho and the prestigious Norman Mclaren Award in Edinburgh. When The Kings of Siam was shown on British TV it received rave reviews in the press, including Pick of the Day in The Sunday Times, the Telegraph, The Independent and City Limits.
1994 saw Pearly Oyster exploring short-format comedy with Far Out Man, a series of 20 second stings for MTV, starring a little green man with an impressively proportioned cucumber. They also produced Euro-Deutschland for Christoph Simon. (Part of the unfinished 'Know your Europeans' series conceived by John Halas).
Nominated for best ecological commercial.

Far Out Man. 3 X 20 Sec episodes.
Conceived, animated and directed by GED HANEY. Music by GED HANEY produced by EMMA CALDER. Pearly Oyster Productions 1995 for MTV
Far Out Man is a lovable and cheeky fellow who is covered from head to toe in green spots. He lives far out in the universe (hence the monicker) on planet MTV. With his trusty ray-gun always at the ready he gets up to side-splitting antics – from an extreme form of cucumber abuse to a novel but efficient method of extracting eggs from a hens bottom.
From 1995 to 1997 they developed several pilots: The Zodiac Files, Animated Christmas Carols, The Mouse Family as well as directing many popular TV commercials, including Lynx Inca for Faberge.
In 1997 Pearly Oyster returned to the short sting format, Ged directing Death of a Chameleon and Christoph Simon directing Locopath for the animation channel Locomotion. Locopath was nominated for Best TV Graphics at the British Animation Awards and won the special jury prize at Hiroshima 98.
In 1998 Emma completed The Queen's Monastery. A Pearly Oyster/BBC Bristol co-production made with financial assistance from the London Production Fund. The Queen's Monastery was the first animated film to receive money from the National Lottery. The film was successfully distributed in cinemas throughout the UK and North America. It won various prizes including a Silver Hugo at Chicago, second prize at Dresden, Best Professional Film at Bradford International Film Festival and Special Jury prize at Zagreb International Film Festival.
The year 2000 was more commercial than usual for Pearly Oyster, Ged directed two Pop Videos Bla Bla Bla and The Riddle with Andreas Hykade from Studio Filmbilder in Germany. The Pop videos reached cult status in Germany and Ged and Andreas were regularly featured in the German Press and TV. The success of these videos led to the commissioning of five commercials for Britannia Building Society.
Gone Fishin' directed by Christoph Simon was premiered at Animated Encounters in 2002 to an enthusiastic crowd. The film was also shown at Cannes and awarded a special commendation at Melbourne International Animation Festival.
In 2005 Ged left Pearly Oyster to pursue a solo career. But after a break of ten years, Emma and Ged co-directed Roger Ballen's Theatre of Apparition's.
In lockdown 2020 Emma and Ged collaborated again on a couple of Covid films for a charity in Brixton.